Rosy – Dangles and Nostril Exhales – smokingsweeties HD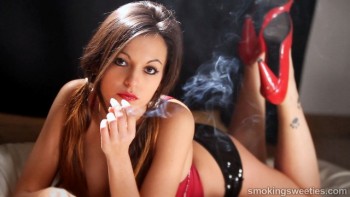 The name of the actress: Rosy Name movie: Dangles and Nostril Exhales Length: 00:15:09 HD Video Type: 720p Video Format: WMV Video: Windows Media Video 1280×720 23.97fps 3938Kbps September Audio: Windows Media Audio 44100Hz stereo 160Kbps Size: 445 MB
Today Rosy came really hungry for smoke! Sexily attired with high heels and showing off her killer body, she devoured several Slim 100s: all white. Rosy elegantly dangles her 100s while exhaling powerfully through her nose along the full video – performing innumerable pumps like the ones that you can see on the pictures above.
Her lungs' capacity for smoke is certainly on show here – displaying not only great skill but passion and powerful addiction. – I defy anyone not to be mesmerised by this highly accomplished nicotine-fiend.
If you love dangles and nostril exhales, this clip will always be in your top list. Rosy.Dangles.and.Nostril.Exhales.wmv